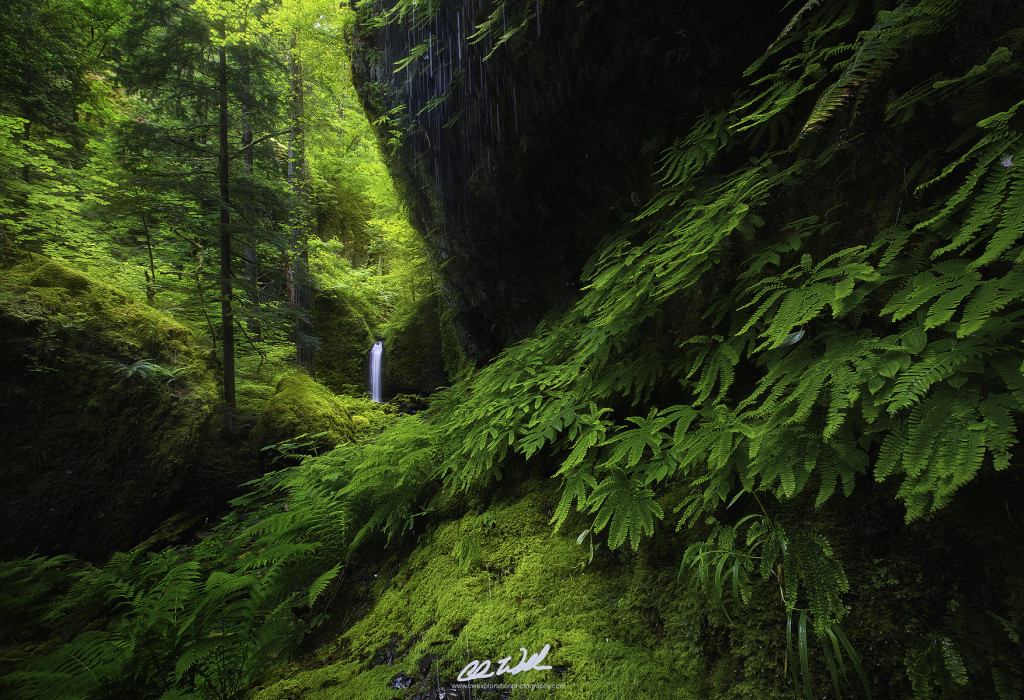 A few months back Max Foster (from TheWorldExplored Photography) reached out to me through 500px after we had been following each others work for a few months. He asked if I would be up for a waterfall hunting trip down in the Columbia River Gorge in a few months time and you know I couldn't turn that down. We started making a list of possible waterfalls to visit and began planning for the trip almost immediately hoping that the conditions would be prime to shoot the many gorgeous waterfalls that grace the small strip of land between Oregon and Washington.

The first waterfall that we both had on our bucket list was the Mossy Grotto. I first saw an image of this area taken by my buddy Ryan Dyar and I knew that I had to eventually see the area for myself. Max and I got up at 5am and hit the trail by 6am after a couple of rounds of coffee (neither of us can function without it haha). We had slept in our respective vehicles the night before which made getting up that much more fun but you gotta do what ya gotta do to get the goods! We left the Eagle Creek parking lot and headed up toward Ruckel Creek to hit the trail. The trail was moderately steep almost right away and my body was not happy about it at 6am. That thing was a thigh burner! Once we hit Indian Pits we dropped down the rocky slope and descended into the lush greenery of the valley below. When I say lush greenery what I really mean is Poison Oak and ticks because yeah there were enough to go around for everyone in the area. Key tip: wear long sleeves and layers!! Okay back to the hike. We descended into the valley and followed the creek below for a fair distance before rounding the corner and stumbling upon one of the most unique and gorgeous waterfalls I had ever seen. The Mossy Grotto had definitely lived up its name. We both began scouting for comps almost immediately. Here's a behind the scenes shot from the Grotto:
This is Max in what we have since dubbed the #powerstance for photographers haha. He's nailing some long exposure reflection shots of the Grotto. One thing I will say is that I honestly couldn't believe the amount of visibly new trails, stripped moss and disrepair in the area. We take photos of these areas because we think they are absolutely beautiful and convey an emotion and a very strong connection with the land and to show others the beauty that may not be able to see in person. The other side to that message is that our photos often draw hundreds of people to these areas who may not fully understand just how fragile the land is. I think it's very important for anyone that visits to realize that these places have a finite lifespan given the amount of traffic they receive and if we want future generations to enjoy these areas we need to do our part to tread lightly, educate the public as much as possible and respect the lands. The more we respect the land, the more it will give back to us! Tread lightly and happy shooting everyone!