Conformity of the Color Bomb
Landscape photography has morphed its way into more of a popularity contest than an art form.  There's not a day that goes by that we don't see an in your face, 'look at me!' style of photograph gracing the front page of 500px or any of your favorite social media websites.  For me, my perception of landscape photography has changed a great deal.  Sure, don't get me wrong I LOVE dramatic skies, epic vistas and jaw dropping presentations of the beautiful world in which we call home, but seeing the same areas, presented in the same ways over and over again drives me absolutely crazy.  I don't think I'm the only one with that mindset.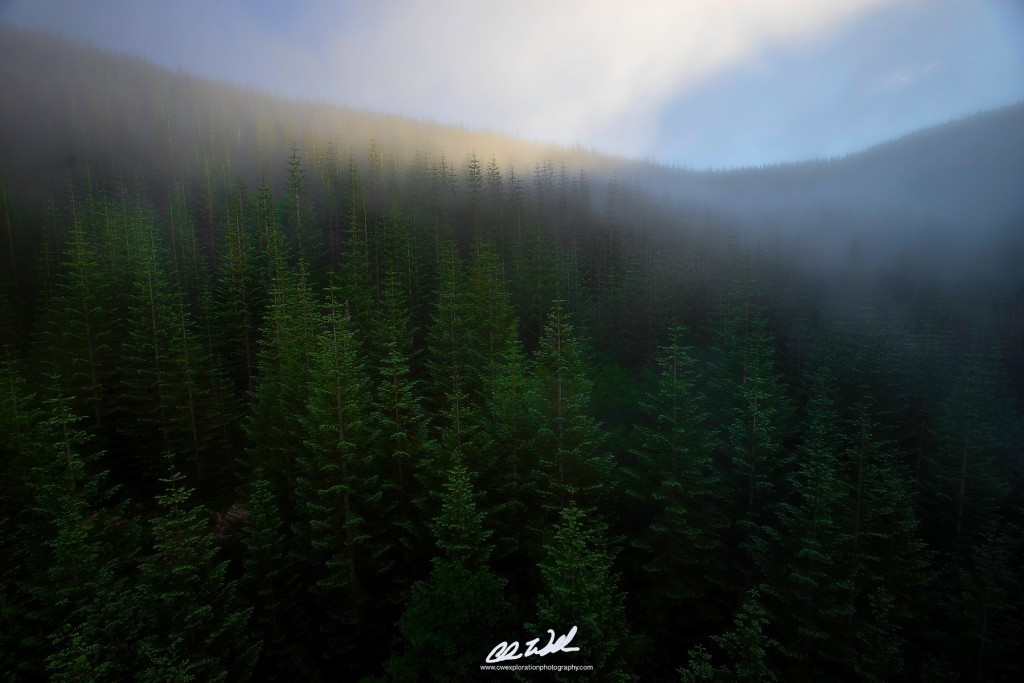 I think that social media has really been responsible for the demise of subtly.  Mass media photo sharing sites push those colorful square crops to the top in no time because as humans, well we love color.  Our eyes are naturally drawn more to colorful scenes; gorgeous sunsets, fields of flowers and starry night skies. We have a tendency to overlook the little things; nature's footnotes if you will.
Personally I think that we as photographers can easily shift that ideal and find some middle ground by simply not limiting ones self to what's popular.  That idea seems simple enough in practice, but developing an eye for subtle scenes and natural abstracts is no easy feet.
Seeing the Trees Through the Forest
I know this typically isn't the way that this idiom is written, but it is quite intentional.  Often times we get so overwhelmed by the vast landscapes in front of us that we over look the subtleties and intimate details that make the landscapes themselves so unique and breathtaking.  The sum of the parts make the whole.  Sometimes it's worth looking at just what those parts are comprised of and focusing in on the small details that most of us would otherwise overlook.  Finding the trees through the forest can be problematic from time to time; especially when weather comes into play.  I always try to look for patterns in nature.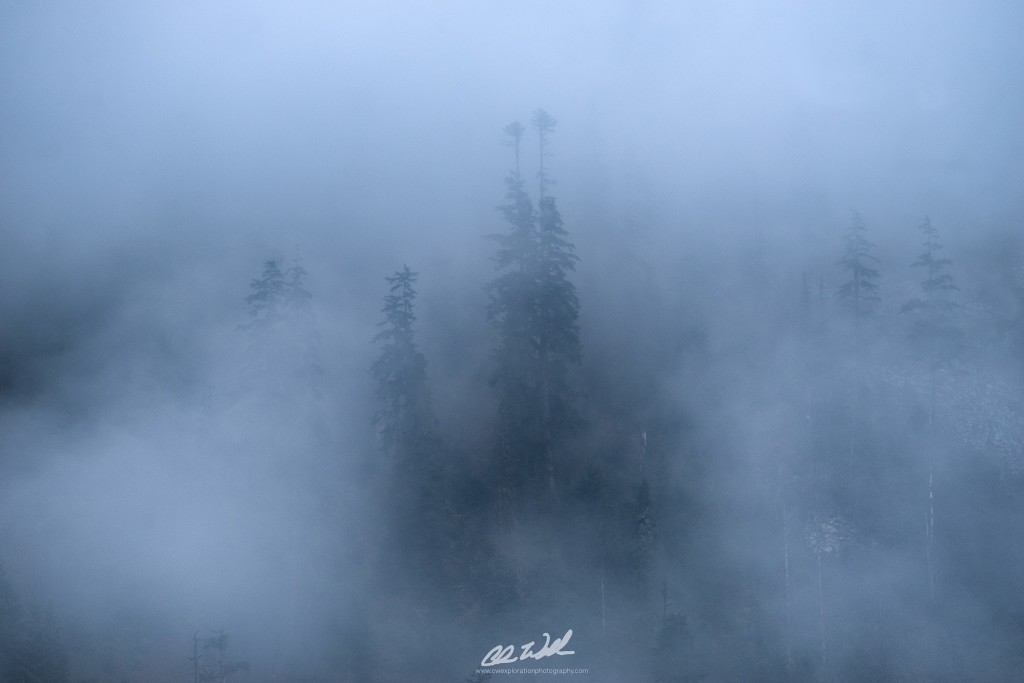 If a pattern exists; it's meant to be seen.  I personally look for objects or lines that really catch my eye and lead me through a scene.  From there I really try to focus on those lines, textures, patterns or objects of interest. Sometimes you have to let the weather and the conditions do the framing for you.
Fog, mist and low clouds can not only add some serious mood and atmosphere to an image but they can also help to frame and add depth to an image as well.  Let the clouds and fog help to guide your decision.  Look for breaks in the fog to emphasize a particular feature that you're drawn to.  It could be a layered ridge line, a small stand of trees or even a mountain peak.  I think too often we get discouraged by crappy weather and low visibility when we should be looking at it as not only an opportunity but a challenge as well.  I love shooting in questionable conditions.  Some of my most memorable shots and experiences have come from shooting in some really challenging and for me evocative situations.  Don't ever let less than ideal weather conditions discourage you from breaking out your camera.
Limitation is the Demise of Art
Limiting yourself to a certain style or preferred composition can seriously hinder personal development as a photographer.  I struggled a great deal with this early on.  I remember the first time a stumbled upon 500px and I was blown away by the gorgeous mountains surrounded by in your face wildflowers loaded with color and detail.  Don't get me wrong.  I LOVE shots like that.  I have several in my portfolio, but sometimes it is nice to take step back from them to look for inspiration in other places.  Compositions don't always have to blow the viewer away by the sheer 'wow' factor.  Subtle is good.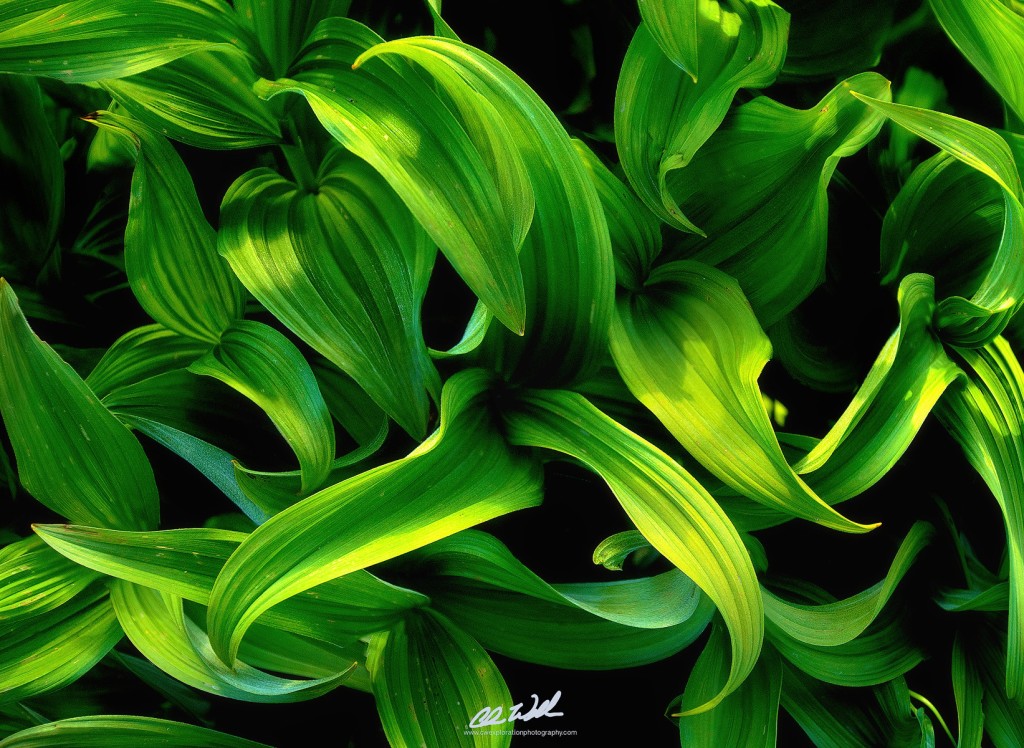 Corn Lilies are an excellent example of this; there are intricate patterns and beautiful compositions to be found if you take your eyes off of the mountains and look to the slopes below.  Pay attention to the curves and turns in the leaves.  How can you best exemplify them?  When I put this image together I looked for symmetrical features that would make the central lily stand out from the rest of them.
I found several lilies that I really enjoyed but framing them appropriately just didn't feel right until I stumbled upon the one that you see featured here in this image.  The light was perfect, the symmetry was there and the framing helped to exemplify what I was trying to convey.
Water can be an excellent source of inspiration if you know where to look.  Take a waterfall or a turbulent aqua blue glacier fed river.   Your initial inclination might be to find a way to represent the entire scene in a manner that evokes emotion or captures your eye in a unique way.  I find myself drawn to that mindset as well from time to time but I challenge you to look further into the scene and dissect it.  What section of that river do you find most attractive?  Is there a rock formation that catches your eye?  Does a certain tier in a massive waterfall lead your eye through the scene?  Instead of finding a way to work those features into a vast landscape let them take center stage.  Let those features speak for themselves.  After all there is a reason that your eye found them; they're unique to the area and really epitomize the beauty of the sum of those parts.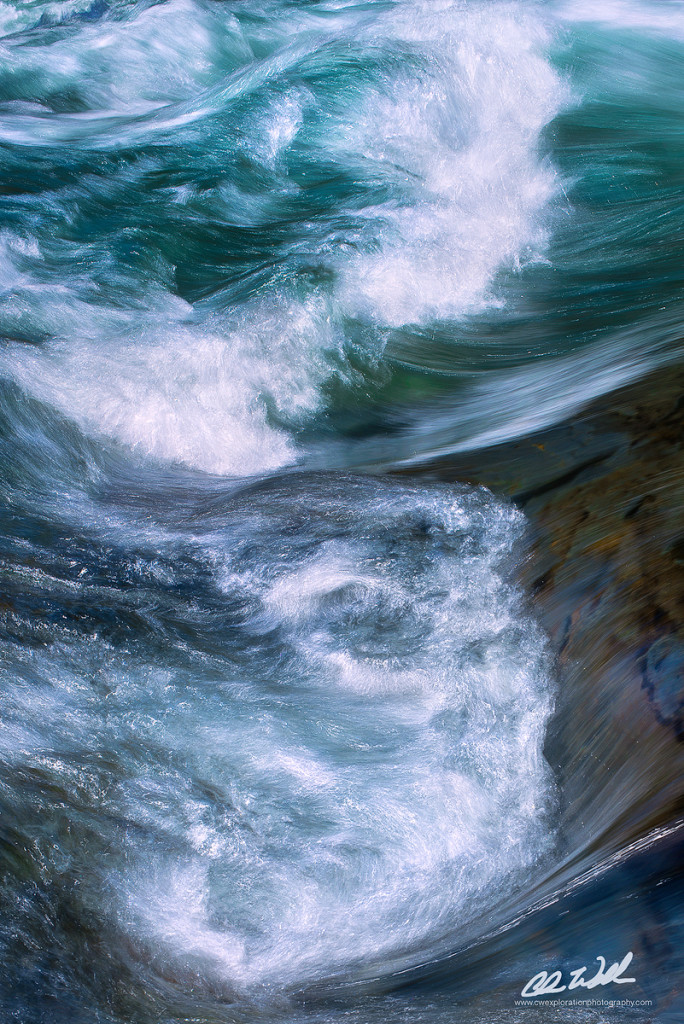 The next challenge that you face is how to best represent the intimate scene you wish to capture.  What settings and shutter speed should you use?  Landscape or portrait?  What crop?  These are all questions that circulate in my mind while I'm out shooting in the field.  For waterfalls and any moving body of water in general I find myself drawn toward methods that enhance water texture and lines.  I look for patterns in the flow of the water; the ying and yang of the currents, the balance of the flow around rocks and the light play on the water itself.  I try to evoke a feeling of being there from that small sampling of that vast gorgeous landscape.
I think capturing a variety of textures in a single exposure can be a very powerful thing.  Smooth lines combined with circulating pools and turbulent rapids frozen in time can add a great deal of depth and layering to an image.  It can really make a photograph come to life.  The shot to the right could have been taken on the coast, in a river, near a glacier etc.  That's the beauty of abstracts; they can really captivate one's imagination.
Capturing abstracts of waterfalls can be fairly tricky; especially when the water flow is extremely high.  Looking for features in the rocks surrounding the falls, the vegetation in the area or the various tiers in the falls themselves can offer up a variety of different composition.  Focusing on the falls themselves can be another method to capturing an intimate and more unique scene.  Water texture and framing are the big keys to shooting something of that nature successfully.  How much texture do you want?  Do you want to focus on the water itself, or frame it with a bit of the surrounding terrain?
I recently challenged myself to shoot an abstract of one of the most photographed waterfalls in Washington State.  Snoqualmie Falls. Compositionally speaking the falls are extremely limited.  There are really only three terraces to successfully capture the falls from (including the base) and although conditions can change upon every visit; the composition remains the same.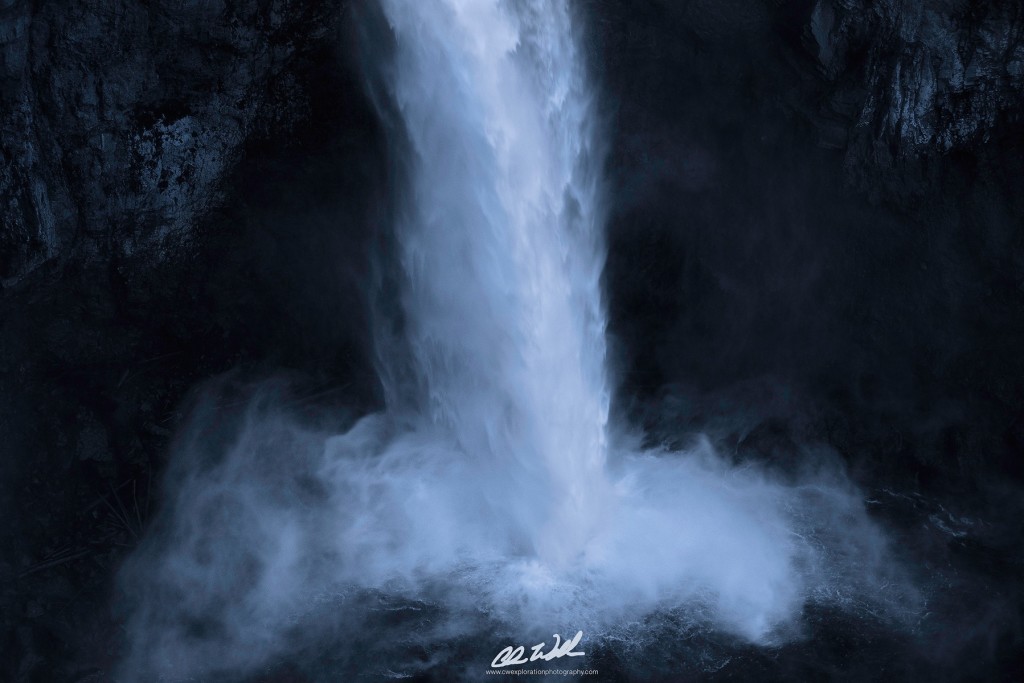 For this trip I put down the wide angle lens and broke out the telephoto.  This shot is one example of the several that I attempted that evening.
I decided to frame the falls by centering the bottom portion in front of the large cavern that sits directly behind them.  I played with a variety of different shutter speeds but ultimately settled upon the one that provided enough water texture and overall movement to lead the eye through the frame.
Abstract or Abstract?
Intimate scenes like the ones described above can be extremely challenging to shoot.  With that said; what happens when you go into the digital darkroom and discover shear disappointment in your efforts?  Fear not! Not all is lost.  There are creative ways to recover disappointing or lack luster shots to some extent.  Motion blur either in camera or in the digital dark room can be extremely rewarding if done correctly.  It may not be everyone's cup of tea but it can add a lot of creativity to what might be a bland original shot or it can take an amazing shot in a completely different direction.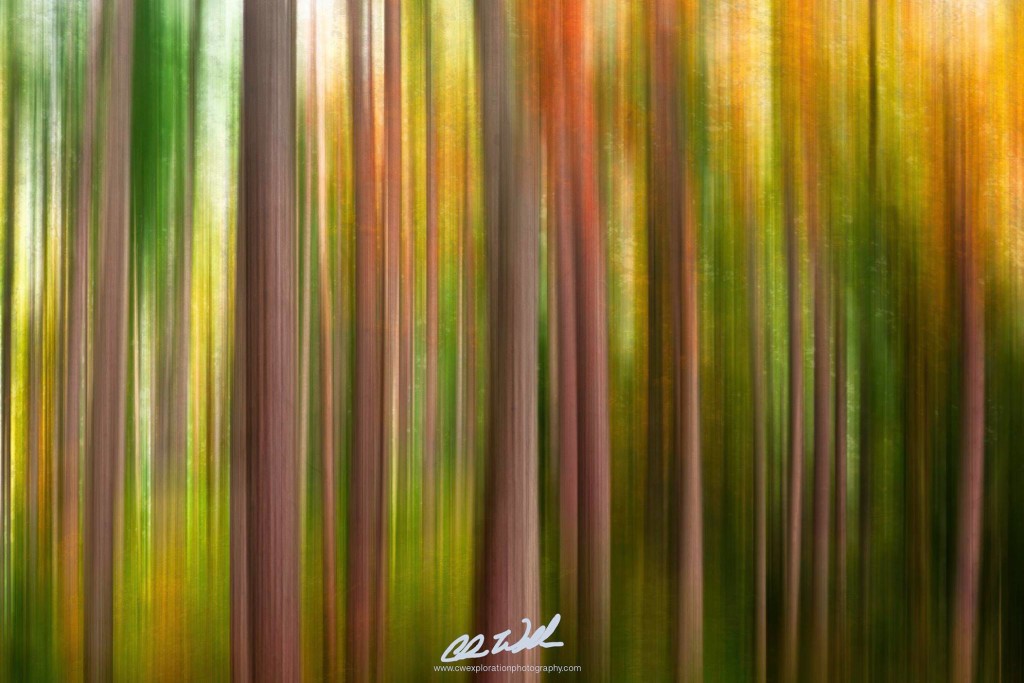 The panoramic stand of trees that you see here was shot during one of the better years of fall color that we had up here in Washington.
The shot itself lacked a lot of interest so I decided to take a more artistic approach in presenting it.  I utilized motion blur in Photoshop to achieve this effect.  You can achieve this in camera as well by shooting a long exposure shot while slowly tilting your camera up or down to blur the image (hints the title; MOTION blur).  Like I said this isn't everyone's cup of tea but it can be a fun creative exercise and it's not a bad tool to have in your back pocket when your artistically stalled or just want to get the creative juices flowing a bit.
As I mentioned before 'limitation is the demise of art'.  Don't limit yourself to the conventional techniques.  Think outside of the box and don't be afraid to try new techniques with different compositions that will set you apart from the field.