Oh the Madness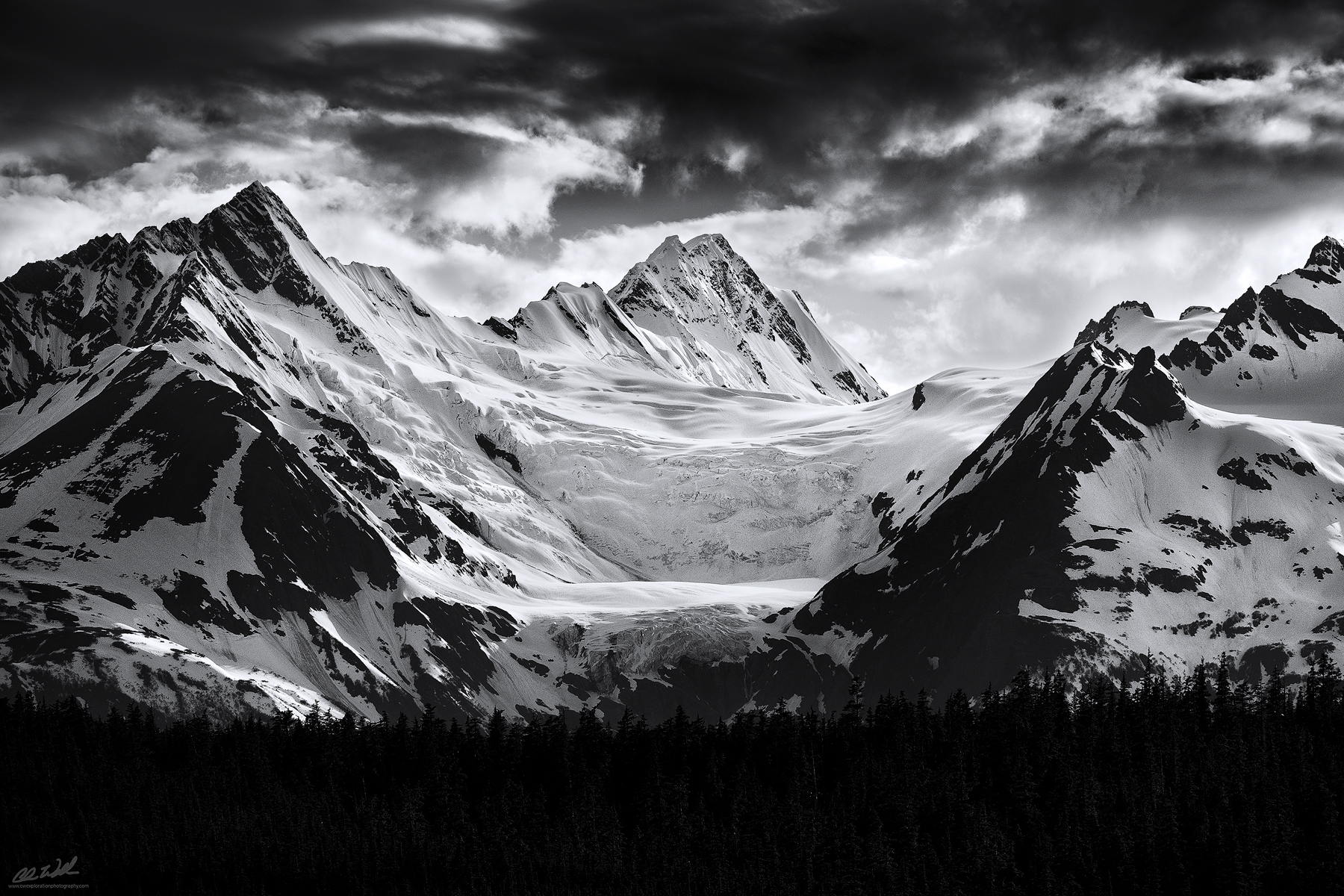 My journey to the Fujifilm X-T2 wasn't exactly straight and narrow and it definitely wasn't conventional by any stretch of the imagination; but 8 weeks into the switch, here I am writing about the whats, the hows and the whys of why I started down this amazing path.
Let me start by saying that I had honestly never even considered switching back to an APS-C format camera or even to Fujifilm for that matter until a few months ago. The limited technology of the sensors in the APS-C cameras always turned me off for a number of reasons. The main reason being the lack of Dynamic Range, (ability to pull detail from shadows and retain detail in slightly overexposed regions of the image) followed by the lower megapixel count and the noisier high ISO files. I was determined to stick to a full frame system because I wanted more DR, more megapixels and more technology, plain and simple.
So why the change in heart?
My Love-Hate Relationship with Sony
I was in a bit of a weird situation when it came to my photography gear. I had moved on from my trusty Canon 5D Mkii to a Sony a7R with a Metabones Mkiii Adapter and Canon L glass to save weight, increase dynamic range, increase megapixels and to improve the overall Raw file quality. That was all well and good but there were a few things that I started to realize after shooting with that franken-system for a few years:
The already mediocre weather sealing of the Sony a7R was further compromised by the use of a lens adapter
Waterfall mist and rain literally caused my camera to shut down on multiple occasions
Autofocus is useless when pairing Canon lenses with the a7R (this was mostly remedied with the a7R ii, but still limited)
Shutter shock will ruin your life and no I'm not kidding
The battery life was atrocious
The menu layouts could have been better
All in all I loved my system, don't get me wrong, but it did have some serious shortcomings and they began to become even more evident as I started to work with longer lenses.
Enter shutter-shock. In all honesty the a7R should have never left the manufacturer floor with how bad the shutter-shock issues were… and yes I'm being serious. Whenever I shot with anything longer than, say, 100mm with a longer lens I always had to take at least 10-15 shots to ensure that I had one useable file. Yes you heard that right; 1 in 10 images were useable when using longer lenses on the a7R. That's unacceptable. That problem alone gave me serious pause and it really made me re-evaluate my equipment.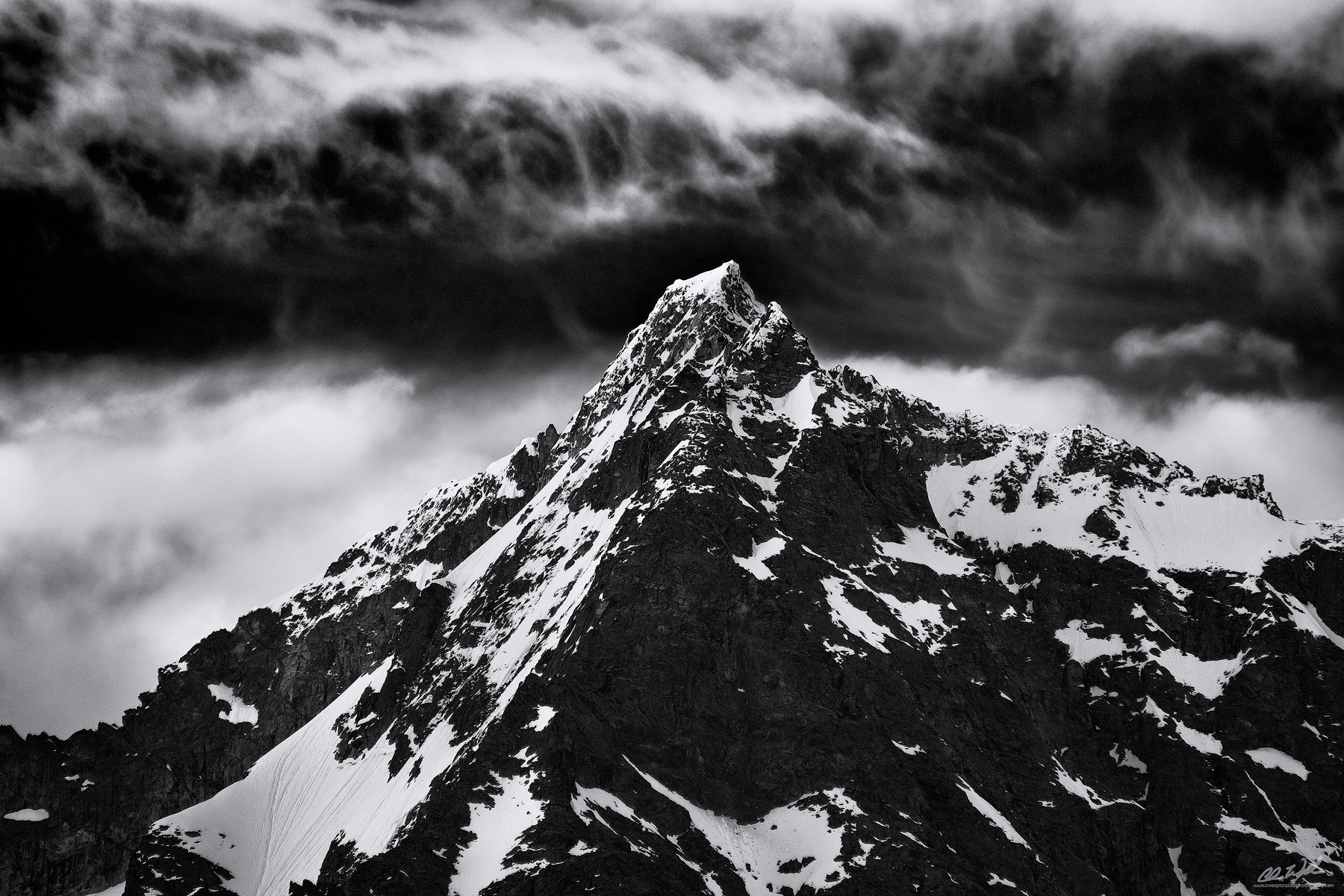 Let's face it; time is money. Let's say you've got a 10 second window to capture 'that' moment and you fire off as many shots as possible only to find out, upon reviewing your files, that none of them are even useable. That shot could have landed you a cover, could have sold a ton of prints or it just could have meant a ton to you. It could have been something that you had been chasing for a very, very long time and now that moment is gone.
Additionally, anyone that tells you that Sony doesn't have a weather sealing issue is either paid by Sony or is the luckiest person on earth when it comes to their gear. When I say that a camera has a problem; it's not taken lightly and it's not a brash or off hand comment. The a7R had some serious weather sealing issues. If rain, water fall mist or anything of that nature even so much as blinked at the a7R it would literally shut down. It shut down in hot weather, in extreme cold weather and in any sort of wet or damp environment. The battery life was down right atrocious. I treat my gear like gold, because frankly, I don't have the money to replace it (yes I have insurance) and if I felt like a situation was too severe for the camera; I just put it away. That shouldn't be the case when you're spending $2k plus on a camera. The bottom line is that we should expect better and Sony needs to step it up (supposedly they have with the a9, but that is yet to be seen).
Not to get too philosophical here; but photography companies owe it to their customers to do better and to improve. We spend a lot of money on equipment and often promote the use of said equipment for free because sponsorships are few and far between. I'm glad to see that many companies are moving in that direction, but it's been a long time coming. As the market continues to shrink I really do hope that these companies will start actually listening to guys like Rishi over at DPR and folks that aren't sponsored, but do spend a lot of hard earned money on equipment.
End rant.. sort of.
My Goals for the Switch
Okay time to come down from that pedestal. All in all I was frustrated, and I was in a situation where I had the perfect opportunity to move on and to explore my options in terms of what I really wanted to achieve in photography and what gear I would need to purchase to make those achievements possible.
I had four major priorities in mind:
No more adapted glass
Better weather sealing and battery life
Improved autofocus capabilities
Comparable Raw image quality and DR
Incredible lens quality and selection
I was looking at three different options. The 5D MK IV, the Sony a7R ii and the Fujifilm X-T2. I had Canon mount glass that I was quite fond of, so I wasn't too keen on getting rid of it and I still had the a7R and my Metabones adapter.
The a7R ii was definitely a strong second choice, but three things really held me back from making the commitment. The price tag, adapted glass and the weather sealing issues. The a7R ii's image quality is the best on the market IMO, the only thing that beats it currently with respect to DR is the Nikon D810 at ISO 64. That being said, the thought of using adapted glass made my stomach churn (diminished AF capabilities w/ adapted glass despite all of the AF improvements in the a7R ii) and the weather sealing issues gave me straight up anxiety. There's no reason that you should have to be worried about using a $3k camera in inclement weather conditions.
The Canon 5D MK IV was something that I did consider for a while, but again the price tag and the fact that it didn't perform quite as well as the a7R ii for almost $1,000 more really put me off. The DR in the 5D MK IV is definitely improved, but if I'm spending that kind of money I would just assume by the a7R ii. The AF performance with the Dual Pixel technology is definitely a huge leap forward for Canon.
With all of that in mind; why Fujifilm?
My Journey to Fujifilm
So, with out the way let's move on to why I ultimately decided to go with the X-T2. Fujifilm wasn't always on my radar, but after working at DPreview for a little over a year I got to experience the X-T2 with my own two hands and I fell in love with it. The simplicity of the twin dials, the relatively intuitive menu system and the quality of the lenses immediately captured my attention, but what about the files and the DR? After all that's just about the only thing that folks in the landscape field care about, right?
Have a look at this DR chart from Bill Claff: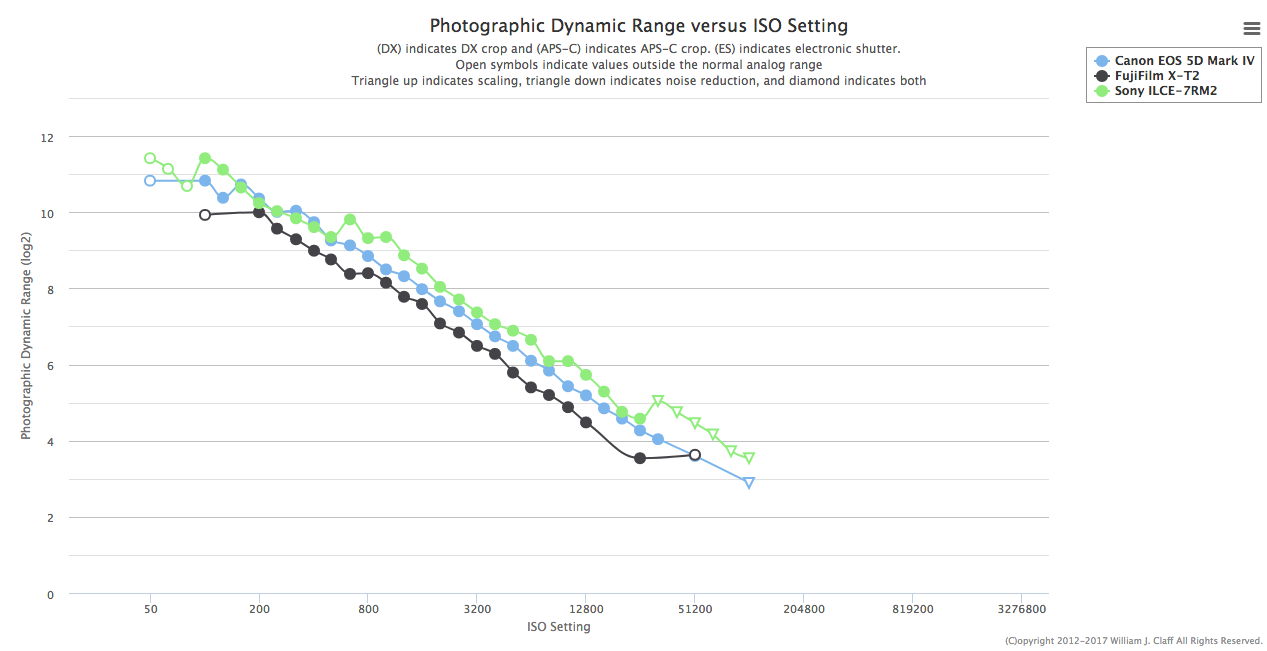 Convinced yet? Yes, yes I know the X-T2 still falls behind the 5D MK IV and the a7R ii, but keep in mind that you're looking at an APS-C sensor versus two full-frame sensors. That's downright impressive. I've been able to pull 2-3 stops of shadow recovery from my files with no banding or loss of color and detail. Do you really need more than 3 stops of DR? If you know the limitations of your system, you can learn to work within it. If that means firing off an extra exposure in super dark conditions , then so be it. It's not that big of a deal. Too often folks get so bogged down by the technology that they forget the basics of photography… if you know your camera you can adapt it to any scene; no matter how much DR is present.
As you can see, the DR is more than acceptable, but what about the overall Raw image quality? The Uncompressed Raw files are impressive if you know how to deal with them. The X-Trans platform makes post processing a bit of a challenge. There have been several articles discussing worm like issues in trees and foliage thanks to some compatibility issues with the Adobe sharpening algorithms and these Raw files.
Fear not! There is a solution! David Kingham was kind enough to let me know about an amazing DNG conversion tool by Iridient. This X-Transformer adds one extra step to my post processing workflow, but it's so worth the effort! You can try the converter for free to take it for a spin before you decide to purchase it (trust me you'll want to purchase a license). The files will display a watermark, but you'll get an idea of how the converter performs. Here are the settings that I currently use: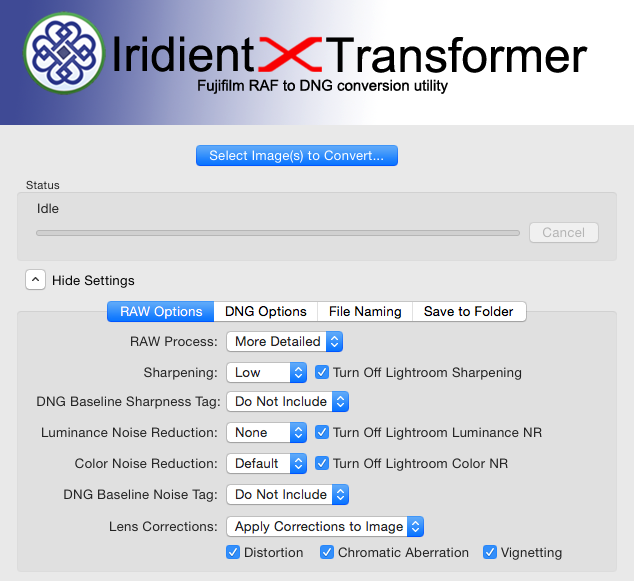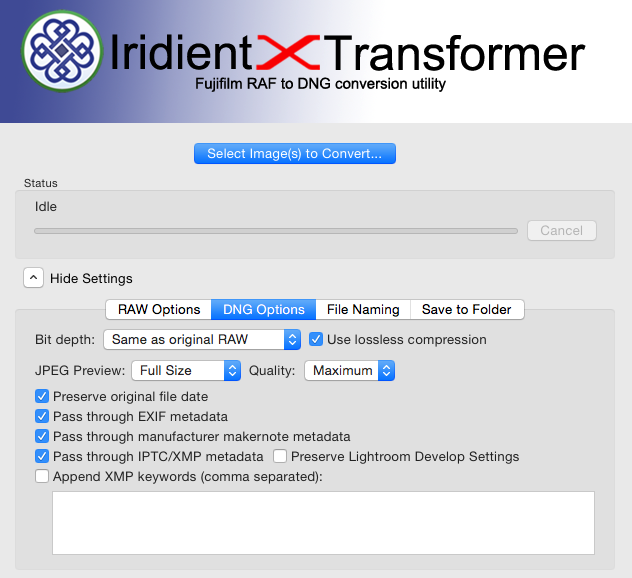 Using these settings will enable you to bring these DNG files into Photoshop to process them further. To get the most out of the files use Unsharp masks and High Pass masks for sharpening. Don't use the sharpening sliders in ACR or Lightroom on these files, they still present some nasty problems… cue Adobe to get that fixed!
All in all the Uncompressed Raw files give you plenty of latitude to play with!
Lenses, AF and Weather Sealing
So the files look good, but what about everything else? Let's start with the lenses. The quality of the Fujifilm glass is downright legendary. They have a nearly full line up of weather sealed XF WR lenses. The only lens that they are currently missing in my opinion is the 8-16mm F2.8 XF WR that will supposedly be released in late 2017.
I currently own the 23mm F2 XF WR, the 100-400mm F4-5.6 XF WR and the 10-24mm F4 XF. All of these lenses are bonkers sharp (keep in mind that the equivalent focal lengths are 35mm, 152-609mm and 15-36mm, respectively). The sunstars that both the 23mm and the 10-24mm produce are exceptional, and that's something that I don't take lightly considering that I'm coming from the legendary Canon 16-35mm F2.8L Mkii sunstars.
I used the Fujifilm XF 100-400mm f/4.5-5.6 R LM OIS WR Lens extensively (I took nearly 1500 images with it) while on my trip to Alaska and I can tell you that the lens is extremely sharp throughout the entire focal range, even when shot wide open. To say that I was impressed by these lenses is an understatement. The quality construction, the weather sealing, the smaller size and the inconspicuous appearance make them a force to be reckoned with and I'm honestly surprised that they aren't talked about more. I realize that the X-Trans platform makes them difficult to test for companies like DxO, but it's high time that these lenses start getting the praise that they deserve.
How about the AF? The AF has been improved a great deal over the X-T1 and offers an impressive 325 points, with improved subject tracking. Honestly it's great for wildlife in nearly every use case and it works extremely well for locking focus on stationary subjects such as landscapes. Check out a more in depth analysis here.
But is it weather sealed?? The X-T2 sports more robust weather sealing than the a7R ii, but not quite as robust as the Pentax K1 or the Olympus OM-D E-M1 Mk ii. I haven't had any issues with the camera to date, and I don't expect to since I'll be using the native weather sealed lenses along with the weather sealed body. The camera is rated to work in temps as low as -10 degrees C. I haven't been able to put that claim to the test yet, but I plan to this winter. Rain, waterfalls and snow don't scare me with this camera in hand.
Did I mention that I only have to carry 3 batteries with me at all times instead of the 6 that I carried with me when I shot Sony? Cue my happy dance.
Final Thoughts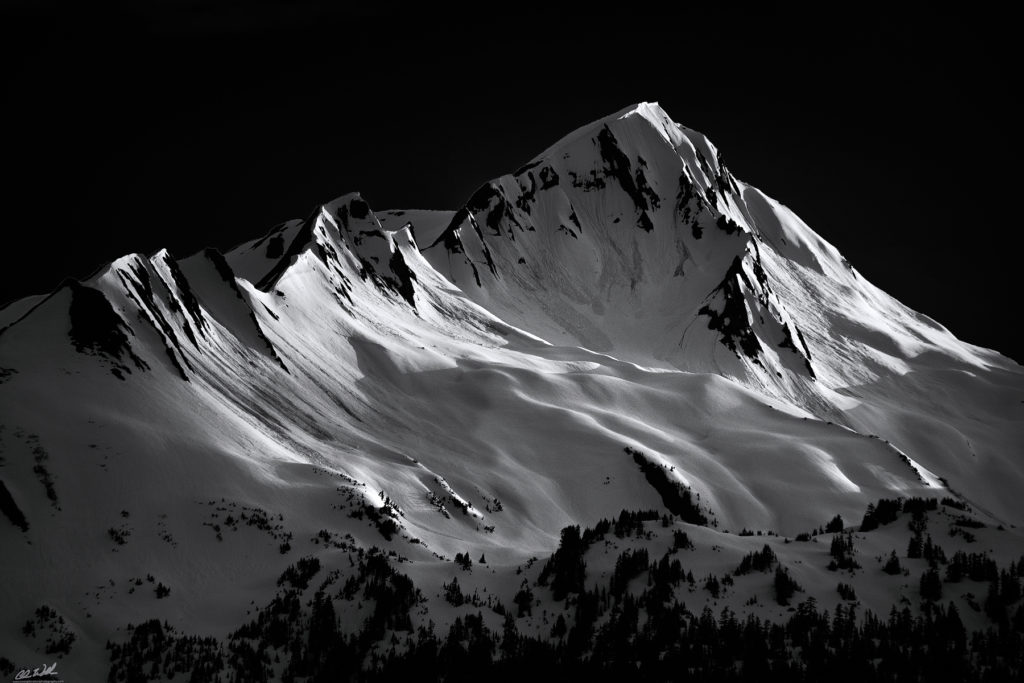 Part of the appeal for switching to Fujifilm for me was to make photography fun again. The control layout, the overall feel and the look of the camera harken back to the film era to some degree and that sense of nostalgia coupled with modern technology just tugs at my heart strings. The camera not only does what I need to do, but it also allows me to have fun doing it!
Fujifilm may not be for everyone, but I don't think that you need to let the term APS-C or that 24mp number scare you off. The camera is more than capable of capturing every scene you can imagine; you just have to, as in any system, understand its limitations and learn to work within them. After all, a camera is only as good as the photographer behind it.
Updates
Well, it's been nearly 8 months in and I'm still very happy with my decision to switch. Since writing the original post, I picked up the 35mm F2 XF WR lens (which is amazing to say the least) and I'm planning to add the 16-55mm F2.8 XF WR and the 8-16mm F2.8 XF WR (when it finally comes out) to my collection as well. Enough GAS; how's the camera holding up? I've used the camera in rain, sleet and snow and I haven't had ANY issues with the weather sealing to date. The lenses and the camera body have both held up impeccably in adverse weather conditions.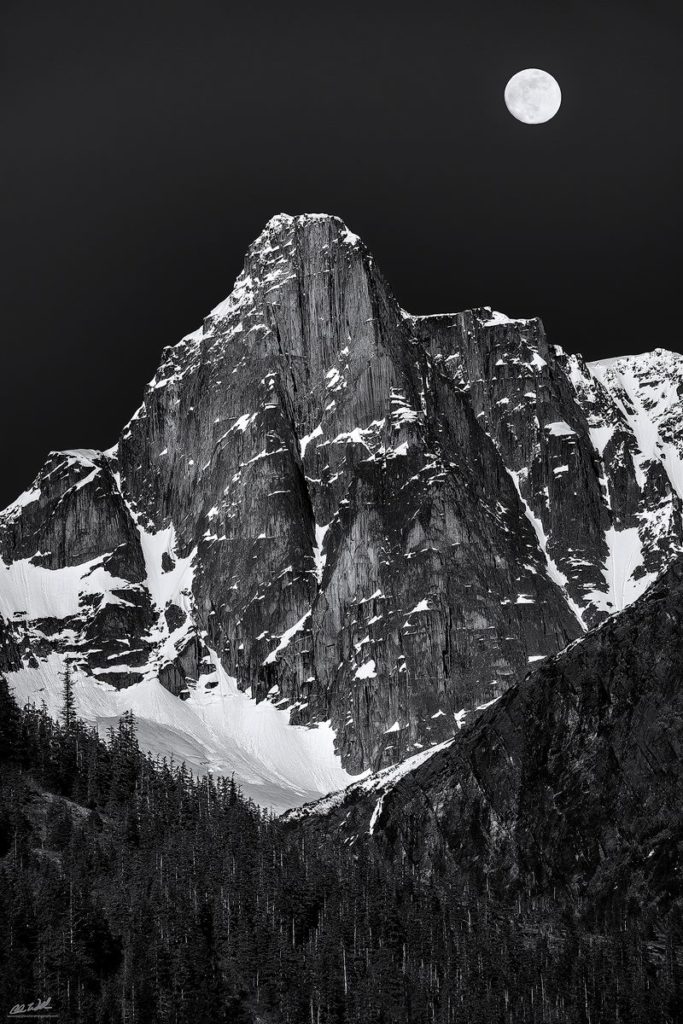 The battery life in cold weather seems to be markedly better than the a7R as well. I only carry three batteries with me at all times, as opposed to the 6 or 7 I would have to carry with the a7R. As a whole, I'm loving the menu layouts and the control dials more and more. It's extremely easy to make changes on fly and I've found that the exposure metering tends to be very accurate. The firmware updates that are released on what seems to be a continual basis keep improving upon the camera's already amazing features. I've noticed improvements across the board with the updates so far.
The AF works very well. Once in a while you can miss focus (especially with the 100-400mm lens). It happens, but for the most part the AF is very accurate and a lot of the error falls back on the user (me). It's been a bit of a learning curve, but I find myself nailing focus more often than not. The majority of the time I find myself using single point and recomposing if need be. Later this month I'll be shooting some wildlife (owls) and I plan to write a blog post on how the camera performs. Yes I know that birds shouldn't be that difficult to nail focus on, but owls tend to hide out in wooded areas and tall grass, so it should present a nice challenge.
As far as post processing goes I'm still using the Iridient Converter and I haven't run into a file that I can't work with yet in terms of DR. I have yet to find myself in a situation where I've needed to blend exposures to recover shadows and/or highlights. I'm planning to migrate to the creative cloud at some point, so it will be interesting to see how ACR handles the RAF files. From what I've heard, the Iridient Converter still works better than trying to work with a RAF file in ACR. In terms of high ISOs; I haven't pushed the camera a ton, but the files up to an ISO of 3200 are very useable and I don't foresee myself ever needing to go beyond that.
So what's on the horizon? I don't ever foresee myself leaving Fujifilm. I may eventually purchase the medium format GFX 50S (or whatever the next iteration will be), but for now I am very happy with my purchase and moreover I'm happy sticking with Fuji. I'm definitely looking forward to seeing where this journey takes me next, so stay tuned!